Grant Rounds
A Grant Round is a period of time during which your community can apply for a grant in a given Grant Program. For example, you may accept Environmental Grants between April 1 and May 31.

Sorting Rounds
In Smartygrants you can sort your rounds by using the arrows in the title bar to adjust your preferences. Rounds are sorted numerically and only applied to current rounds ie: not those rounds that have been archived.
The up arrow indicates a sort ascending versus the down arrow with represents a sort descending.
The arrows become purple to indicate which is the active sort occurring on the screen.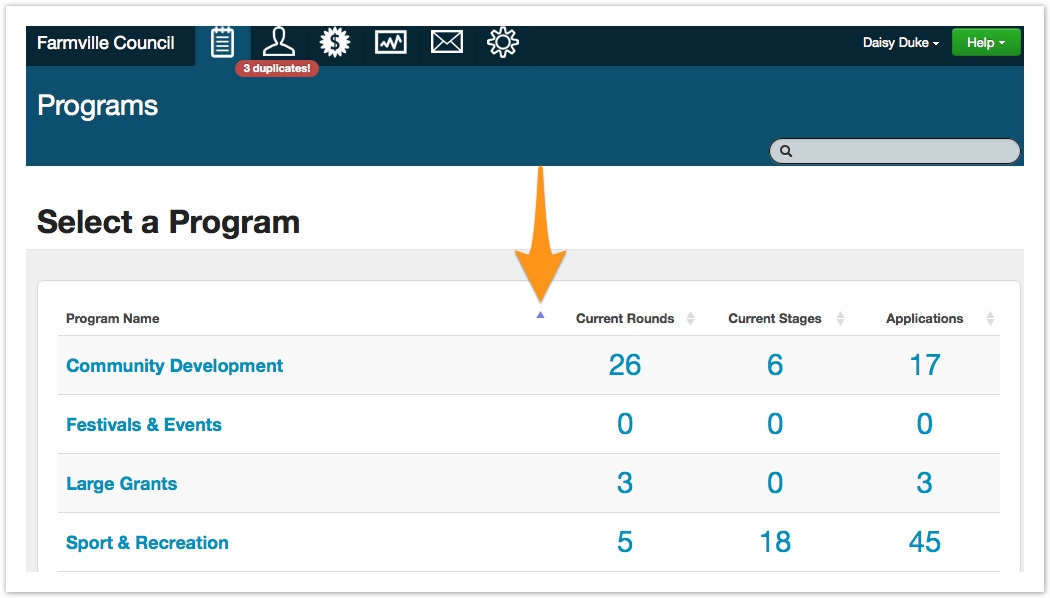 Opening and closing dates and times

In SmartyGrants, you can define grant rounds with a start and finish date and time, or you can leave them open-ended. Applicants can only lodge online Applications during the specified period.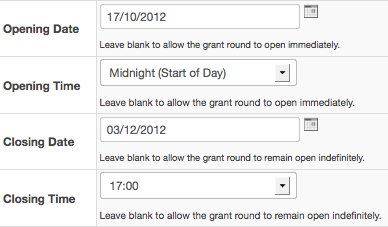 Web address for each grant round
Each Grant Round that you run has its own address on your SmartyGrants site. For example, you may have a Grant Round called the May-June 2012 Environment Grants Round, with the following web address (URL):
http://yourorganisation.smartygrants.com.au/EGMayJune2012
To apply, community members can go straight to that web address, or otherwise visit your SmartyGrants homepage at http://yourorganisation.smartygrants.com.au to see a list of all of your Grant Rounds.

Private round
Grant Rounds can be configured not to appear on your SmartyGrants homepage. To access these Grant Rounds, applicants need to know the exact URL address (for example, http://yourorganisation.smartygrants.com.au/EGMayJune2012). You might use this feature for running invitation only Grant Rounds, sending the URL address to the invited applicants only.

Form Preview
You can configure whether applicants can preview your form prior to the grant round actually opening. Your form can always be previewed once the round has opened; however, you may want to allow peope to preview the form from when you publish the round so that they have additional time to prepare a submission.

Numbering format
When an applicant starts an application they are provided with an application number. By default, this is a five digit number starting from 00001 and incrementing with each new application. You can specify a custom number format which will make it much easier to identify each application from round to round and across programs.

Initial Stage
When a grantseeker submits their Application, SmartyGrants assigns that Application to the first Stage and Tasks in your administrative process. This way, new Applications will never slip your attention.

Current vs Archived Rounds
Over time grant rounds will begin to accumulate in a grant program. For the old rounds that are not complete you can choose to archive these rounds. Archiving a round does not affect what you can do to any of the applications in the round.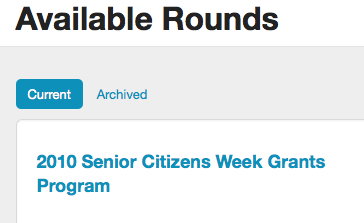 Acquittals 

While we recommend that you simply attach grant acquittal forms to existing applications in SmartyGrants; however, if you are still receiving acquittals for old grants that are not stored in SmartyGrants , a grant round can also be used to accept grant acquittals.
Extensions for individual Applicants
If ever an applicant requires additional time to complete their application, an extension can be granted.
Creating Grant Rounds
For detailed instructions on creating a Grant Round, see Create a Grant Round .
Specific Round Topics