Getting Started
SmartyGrants is an online system that allows grantmakers to receive online applications and manage the entire grants cycle from application to evaluation.
To make the most of all that SmartyGrants has to offer, you should first familiarise yourself with some key concepts and how we organise information.  This will help you to become comfortable with navigating through the system and understand what each area of the system does.
It is always most helpful if you are clear on what your process is across the lifecycle your specific programs, and mapping out your process should always be done before setting up SmartyGrants.  This will give you and your colleagues a clear understanding of what lies ahead, it will identify what needs to be done and by whom in order to deliver your program efficiently and effectively.
The following gives you an idea of working through SmartyGrants from start-up and where to find documentation, tools and resources when you need it.
---
Account Set-Up
Once your organisation has signed up for a SmartyGrants account - you can either start a new fresh account or if you had previously started a 'trial' account, we can covert that to your live account too. 

An "Administrator" user can control the account settings area of the system.  To begin, an Administrator can add additional users to the account as well as create new Programs (each program acts as a folder for everything to do within that program).  Once your program is created, you can get in and start building forms and so forth.
See account settings to learn about other areas of the system that are controlled from here.
To start adding users see Add Users and User Types & Access Levels to learn how.
---
Creating Forms
SmartyGrants allows you to create your own online Forms for a range of purposes. Forms are the key to you collecting information from your applicants and recording additional information like assessment and administration type information.
You build the forms. If there is a specific piece of information you need to collect or report on, you need to ask it, or create a field for it in a form which will enable you to record it.
To open a round, you need an application form, this primary form is the initial form that will be used to collect applications or expression of interest, for example.  Subsequent forms can then be added (and completed) to each application received through the round as needed.
It is important to understand how each of the question types and form elements work in the form builder, in particular, the difference between standard fields, contact fields and single questions.
See forms to learn more on specific form topics.
---
How to open your funding round?
A round in SmartyGrants is the avenue to open up your funding period for applicants to apply within a given grant program.  A round can also be used as an avenue for testing.
You can run as many rounds within a program as you need to and these rounds can be run simultaneously.  Only one primary application form can be set for each round.  Applications received for a round can then have additional forms added to manage the assessment, acquittals, administration and so forth. 
A round can either be set to public (published on you homepage of your applicant site), private (not shown on homepage) or a test round (simply used for testing your forms and process).
For more information on grant rounds and step by step instructions to create see Grant Rounds.
---
Applicant Site
Each SmartyGrants account comes with its own unique applicant site address.
A URL site address is assigned to your account when it is first created.  You can find what this website link is under Account Settings > General > Applicant Website.
The format of this URL is http://www.yourorganisation.smartygrants.com.au
The site is 'skinned' to have the look and feel of your own website.  When you publish a round it is published to your applicant site and listed on the homepage.  Your applicants can log into your site and manage their submissions under the 'My Submissions' link - this is where they will complete any additional forms you may want them to complete post initial application submission.
If you have any questions about the set-up or skinning of your applicant site you can contact our support team via service@smartygrants.com.au or +61 3 9320 6888.
For more information on you applicant site, or managing your round links see Applicant Website.
---
Receiving and viewing applications
Once your round/s are published you will begin to see applications either started (unsubmitted) or submitted on the rounds tab under each program.
The 'Applications' tab will give you a listing of all applications received for the whole program and then filters/sort/search can be applied.
You can click onto an application number to view the whole application and manage the application.
To learn more about viewing and filtering applications see: View and Filter Applications
---
Assessing Applications
Assessment forms are not visible or available to applicants.  Each grant assessor whether internal or external, can attach and fill out their own copy of an Assessment Form (you build the forms you need, for example, it may be a scoring type form or include items for comment).  These forms can be used to steer discussion within your decision related meetings, or as a basis to record how a decision was made.
To learn more about assessment using SmartyGrants see Assessment & Assessors
A report may be needed prior to your assessment meeting or once your assessment has been completed.  See reporting to learn more on reports.
---
Recording Decisions / Funding Allocations and Budgets
Each application that is submitted has a decision tab, this area is used to record decisions, funding allocations and payments.  By default when an application is submitted the status is 'undecided'.
When the final decision is recorded in SmartyGrants you have the ability to allocate funding amounts, and to define which budgets those amounts are being drawn from. You also have the ability to allocate funding across multiple financial periods and from multiple budgets. 
The funding section of SmartyGrants gives you a snapshot view and reports of your budgets, and of the payments you have allocated, scheduled, approved and/or paid.
An 'Administrator' user can set-up your organisations financial periods, budgets and allocations from the account settings.
To learn more see Funding and Payments.
---
Acquittals (progress and final applicant reporting)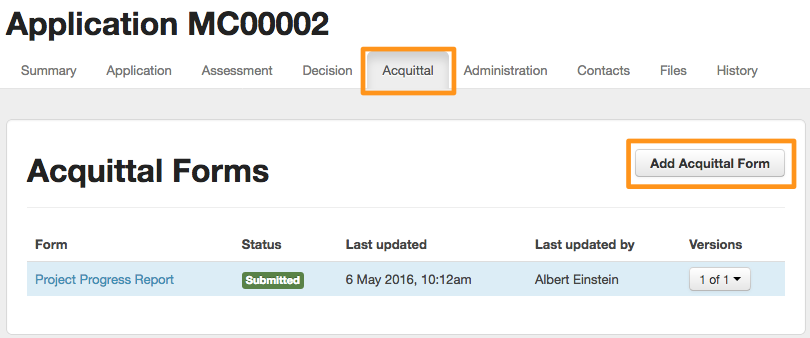 Some funders use 'acquittals' as part of their grant cycle process. 
A grant acquittal report can be used for applicants to tell you:
how they spent the grant
what the outcomes of funded activity were
This information can be used to evaluate the achievements of funded activities and, for example, monitor the effectiveness of funding programs. It also enables grant funders to fulfill obligation of accountability for audit.
In SmartyGrants, an acquittal form can be attached to a successful application, this makes the form available for your applicant to complete online.
For more information and to learn how to give an applicant access to a form see acquittals.
---
Reporting
Reports allow you to turn your grants data into meaningful and practical information, formatted however you wish. Use Reports to run summaries
of Grant Rounds, produce notification letters to Applicants, or analyse your grant giving over a period of time.
Any field on a form or field/item recorded in SmartyGrants can be reported on.  SmartyGrants uses templates (either Word or Excel) to generate reports in your desired layout.
There is also a simple download round snapshot report available on the round settings page of each round.  This is a quick one push button which will download all the information recorded for that particular round into an Excel Workbook.
Producing letters or agreements - you might want to attach those ones using our mailout feature!
How do I download a snapshot report? See snapshot reports
Want to learn more about creating and customising report templates? see Reports and Correspondence
---
Further help & resources

Training Guide and Video Tutorials

This training guide has been designed as a road map forward to get you to where you need to be. Getting yourself familiar with the concepts of the system and across these competencies will save you much time and stress throughout your grant cycles! It also includes checklists, sample process map and work plan.
A full suite of video tutorials are available to help you get the best out of the system at your own pace and around your relevant time frames.  The tutorials are built to match the competencies outlined in the training guide and each competency will list the videos to refer to. After watching the relevant video a checklist for each competency has also been provided to ensure that you have everything covered.
Computer Lab Training Sessions
Our computer lab sessions are designed to give SmartyGrants users affordable and practical training and is a great opportunity to join SmartyGrants users from different organisations to walk through the system. We have both introductory and intermediate classes available. Attendees each have access to a computer in the lab to work on and follow along the session/s with the opportunity to practice skills. You can find other training options and a schedule of sessions on the SmartyGrants website.
Help Guide for Applicants - Completing a Form Online
SmartyGrants provides an easy way for grant seekers to complete their application form online. The help guide for applicants will explain the essential steps your applicant needs to take to complete and submit a form.
Some of the features of SmartyGrants are:
Applicants can save their progress and return to complete the application at a later date;
Application is stored online, no need to save versions to a computer and can be accessed anytime; and
Applicants can be certain that their application has been received when they submit it.
You can either send your applicants to the online help page here Help Guide for Applicants or you can download the guide in PDF format here.
FAQ's (Frequently Asked Questions)
AIGM Membership (Tools & Resources)
As a SmartyGrants user, we know you are at the forefront of grants reform in Australia and we offer our grantmakers a free 10-user membership of the Australian Institute of Grants Management (AIGM).
Our Support team
If you have any questions please do not hesitate to contact the SmartyGrants support team either via e-mail service@smartygrants.com.au or phone Australia +61 3 9320 6888 or New Zealand +64 4 889 3068.