Acquittals
Some organisations use acquittals as part of their grant cycle process.
A grant acquittal report can be used for applicants to tell you:
how they spent the grant
what the outcomes of funded activity were
This information can be used to evaluate the achievements of funded activities and for example, monitor the effectiveness of funding programs. It also enables grant funders to fulfill obligation of accountability for audit.
Build an Acquittal Form
Click on the Forms tab under the relevant program.


 

Click on the blue +Create/Copy Form button.


 Select External Acquittal Form from the Purpose of Form drop down.


Follow the usual Form building process to complete your Acquittal Form (see Creating Forms for more information).
Grant an Applicant access to the Acquittal Form
Go to the Application to be acquitted. 

Click the grey Acquittal tab.

Click the Add Acquittal Form button.


On the page that appears, select the Acquittal Form you wish to add to the application. 

You will see a number of options that can be set:
-

select if you would like a due date enter and time by which the form must be submitted;




- whether you want an automatic notification email to the user telling them the form is now available and how to access the form;


- the option to create an associated task (if selected, the task to review the related Acquittal Form will be added to the application and your task list);
- whether you wish to allow late submission (allows users to submit the form even after the due date has passed) - if this is not selected, you would need to modify the due date at a later time to allow submission;


- whether you would like an automatic reminder e-mail to be sent to the applicant prior to the acquittal due date, there are a number of preset options or you can choose a custom reminder date.



When you have completed your options,

click 

Save 

to add the form

.




The form is now shown as being Open which means it is open for the applicant to fill out. If you set a due date it is also displayed.




If you need to you can amend the due date by clicking on the Modify Due Date button.

What the Applicant sees
When the Applicant logs in, they see a new Acquittal Form attached to their existing Application. They fill out the Form just as they would a regular Application Form. (They use the same username and password as they did when they registered to apply, the form sits in a section called 'My Submissions' once they are logged in).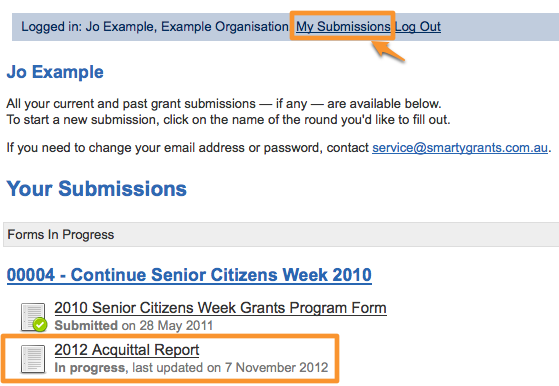 What you see
When you view the specific Application, you now see an attached Acquittal Form on the grey Acquittal tab. There is also an option to request access to the acquittal form to view your applicants progress, or to assist them in completing the form.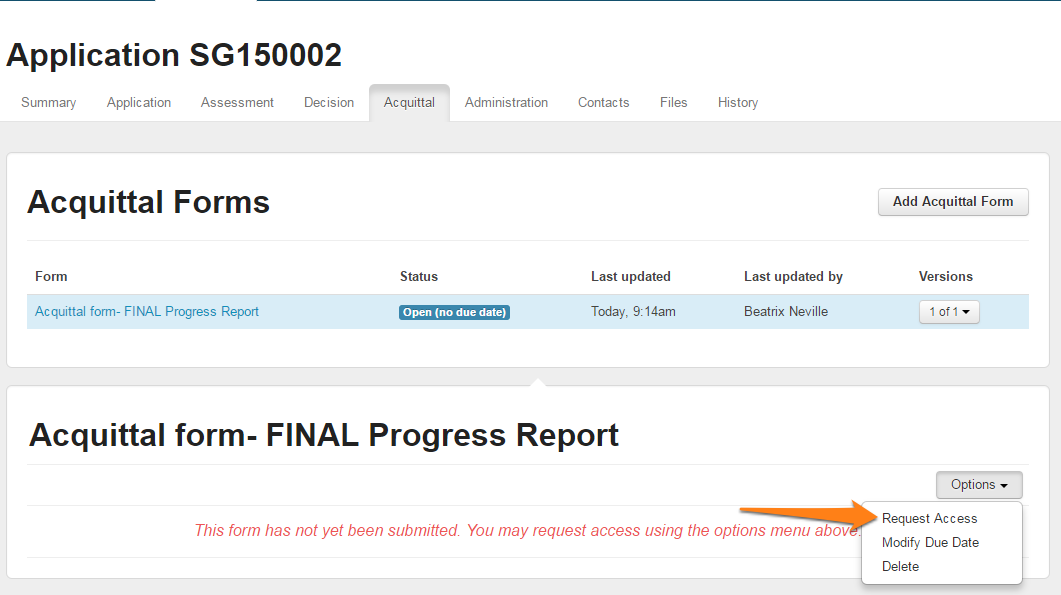 Submitted Acquittal Forms

Once the applicant has completed their acquittal form and submitted, the responses appear in the below.